A big, bright blue ball was a spectacular dreary-day gift for my toddler. I had the ball hidden in the garage with an intention to bounce it into his life on a special day. I wasn't sure when the special day would be or how it would be plain to me that a special day had arrived. I simply enjoyed the ball's bright blue "invitation" to play and thought my son would, too.
It was a slightly damp, slightly cold, and a bit drizzly, early April morning. We had finished many stories, breakfast, songs, and cleaning up the breakfast dishes. Going outside seemed like a good idea but where was the sun? I asked my little guy to look out the window facing the backyard. I told him to keep looking for the sun or birds or any sign of adventure. While he looked I slipped away into the garage and kicked the ball hard toward the grassy spot I knew would be in his view. I ran back and sure enough he called out, "Ball! Ball!" He could hardly stay still enough for me to suite him up in boots and a raincoat to keep dry from the drizzle. He ran out and rolled on top of it, kicked it, pushed it, and squealed in delight.
It turns out the gift made the special day, not the other way around.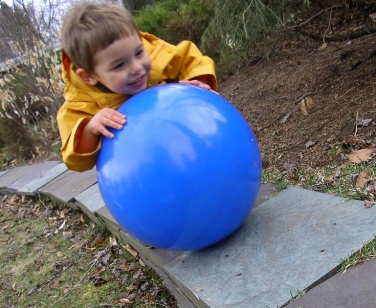 Thanks to Jacqueline for sending in this idea of how to create a special day with a gift.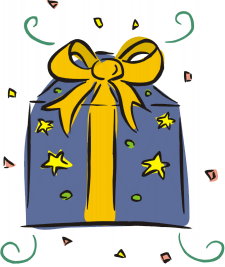 Send us a note if you have any questions.