I am a divorced woman whom has NO children of my own. After many years of anguish and trying to have children with no luck, my marriage deteriorated and finally came to an unhealthy end. I was divorced by my husband and left feeling very worthless. Alone at 39 years old I did not know how to pick up the pieces of my broken life and start over, especially since I had no children to give me the unconditional love that they do.
I moved on after a substantial amount of time and met another man who was 10 years my junior. We hit it off very well and started to date. Then one night as we were sitting and talking he dropped a bomb on me. He said "oh did I tell you I have 3 children, they are 1, 3, and 5 years old." Well you can imagine how far on the floor my chin dropped.
I was so excited that I could hardly wait to meet the children. Not having any reservations about the children I said to him "when are you going to bring them here for me to meet them." His response was how about we go to the zoo with them this weekend. I thought I was in heaven. WOW 3 kids great, I will finally have the children I wanted. Did I mention the fact that at this point I have totally forgotten that they already have mothers. I was so enthralled with the fact that there was going to be children in my life that I had blocked out the fact that they were not my children, but that of another woman. Needless to say I met the children and everything went fine.
It has been over a year now with a lot of ups and downs and a lot of hard work on my part to adjust to having 3 small children around all at once. They are very active and definitely need to keep busy. I was spending a lot of money on toys, traveling, and buying them whatever they wanted to keep them happy, but then I discovered your website by sheer luck. I was so busy chasing and running after the children to keep them busy that I have completely worn myself out and I was left feeling very unappreciated and used because the children never seemed to be happy no matter what I spent on them.
This was such a wrong move. Finally I clued in its not the money that you spend its the time that you spend with them that they remember, the activities that you do with them and memories created from the activities that they talk about for years. Never was this ever so apparent to me as last weekend when the kids were sitting at the table looking at all the toys in the sales flyers. This is what happened and touched my heart so dearly that I sit here with tears in my eyes as I write this letter to you. I hope this story will qualify for the toys contest because I know that I will not forget this.
Back on November 1st I had to make the hardest decision of my life. It was time to send my 14 year old Beagle to doggie heaven. I had agonized over this for 6 months and broke down every time I thought about it. Karma (my beagle) was my heart and soul. Being a childless woman my Puppy became my child. She went everywhere I went, she slept on my bed at night, I walked her every day and brushed her, she was the focus of my life when my husband left me. I had never had unconditional love or endless love as much as I did when I had Karma.
When I met my now boyfriend and his children I was a bit worried because Karma had not been around children, but the worries and anxiety were soon washed away as the children loved her and she in turn loved them. The children fed her and patted her no matter how wet or dirty she was from playing outside. They would kiss her on top of her head and pat her saying "I love you Karma" and she in turn would lick their hands and wag her nubby little tail and hard as she could on the kitchen floor.
The kids would often comment that it sounded like Karma is playing a drum. Karma would sit by the children's side at the kitchen table just waiting for them to drop or purposely drop food on the floor for her, they would smile and say I'm sorry I dropped it on the floor and then grin like the little munchkins they are while Karma ran around the table wildly eating up their delicious little droppings. Memories of my dearly beloved pet and best friend are all that I have now, but none as special as this.
On Saturday night the children, Madison 6, Julia 4, and Owen 2 1/2 were coloring in there bedroom when they suddenly decided they missed me. I heard the roar of 6 little feet come out into the kitchen where I sat with all of the Christmas sales flyers spread out across the table. They stopped at the table and stood very quietly waiting for me to look up at them, which I did. When I asked them what was wrong? Nothing was the answer, we miss you and we love you. We just wanted a hug and a kiss.
With that I received 6 waving arms, 3 pairs of lips and a lot of very wet kisses. When they had finally exhausted all of their kiss supply on me. They wanted to know what I was doing, to which I replied that I was looking to see what Santa had left that we could choose from in his sales flyers. With that being said they decided they would help me pick out all the things they thought Santa should bring to our house. I got up out of my chair because we only have 3 chairs and helped each of my angels into a seat and they gingerly picked out a flyer they wanted to look at.
As I watched my heart melting wanting to give them everything they saw, I listened as they giggled, laughed, they wished and ooohed and ahhhed, and ripped through the flyers with paper flying everywhere. With every new toy they found, down out of the chair they got, they would run to me standing at the counter and show me the toy, telling me why they wanted it and what that toy did, saying Cherie do you think that Santa would bring it here to your house for me? My response was well he might be able to.
After over an hour of giggles and paper ripping, feet running and much listening, Julia the middle child being 4 years old let out a big sigh and placed her head in her hands. She looked over at me standing at the kitchen counter and when everything was quiet she said " Cherie, do you know what I really want for Christmas?" I said "What honey" I really want KARMA back because I know that you love Karma and you cry a lot because you miss her. At this point the tears are already in my eyes as stand and listen to a 4 year old child profess what she wants for me because she loves me. She continues with this, It makes me sad when I see you cry, I love you and I want you to be happy like you are all the time. So will you tell Santa not to bring toys but to go to doggie heaven and pick up Karma and bring her here on Christmas. I just want her back I miss her.
With that being said the kids all jumped out of their chair and said yeah we want Karma back as they ran over to me and hugged me, a now crying, broken person who could not ask for anything better in life than what I had at that moment in time. After many moments of tears and hugs and the kids saying don't cry we love you I finally realized that it wasn't about the money I was spending or all the running to the point of exhaustion that they would remember. It was about all the memories of activities and the time that we spent together that would pay off in the end.
I am one of the luckiest people in the world to have 3 children which are not my own to love me the way that they do, they are forever giving and always thinking of other people. As they sit and color for something to do they always have someone in their mind that they can give that colored picture to because they want to make someone else happy. Children are amazing people and if we as adults can slow down our fast paced, frustrating lives and take the time to listen to our children and their philosophy on life we could probably make our own lives a lot simpler.
Thanks to Cherie for sending this story to help us all remember what it's like to look at the world through a child's eye.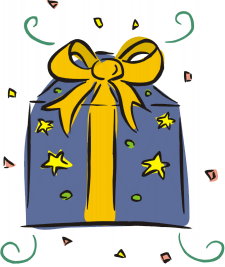 Send us a note if you have any questions.