My most memorable Christmas gift ever was given to me when I was about five years old.
Very early Christmas morning, I snuck downstairs. It was still dark, but there was a little illumination coming through the windows from the streetlights. I crept slowly down the wooden staircase, clutching the banister, my heart beating with excitement for what I might see in the murky darkness. I knelt down and peered through the railings, not daring to go any further lest my parents find me poking around in the gifts before we were supposed to be up.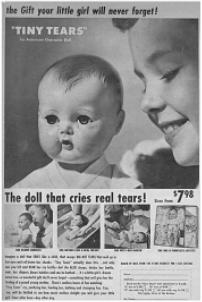 There, propped up on the sofa, was a huge box - it looked like a doll! I crept closer, and sure enough, the box held my heart's desire of 1960 - a Tiny Tears doll! A doll whose eyes opened and closed and wept tears, a doll with movable arms and legs, a doll that wet its diaper. There was a bottle, a bubble pipe, some clothes, and diapers included in the box - I could barely believe it - how did Santa know that was the one thing I wanted more than anything in the world?
That doll went with me everywhere I went for years - sleepovers, camping, car trips - everywhere. She had her own crib, a bassinet, a highchair, a baby carriage and dozens of clothes that my mother made by hand - my mother who had a household and four other children to take care of.
I still have that doll - she's a little worse for wear, but I kept her to remind myself of the dreams and desires of children and how magical it is when they come true.
Thanks to Pamela for telling us about her Tiny Tears Doll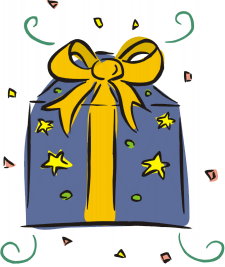 Send us a note if you have any questions.