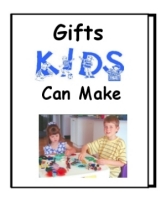 Children love making gifts for their parents and other adults who are important to them. But what can they make that will delight the person they are giving the gift to?
Here's how you can quickly and easily get lots of simple, high quality gift ideas that you children can make. Guaranteed to be fun the children making the gift, and a delight for the person receiving it.
Materials
paper
pencil
green paint
brushes (or hands!)
items to make tree decorations

Lay out the sheet of paper. Using a pencil, draw the outline of the tree.

Have the kids fill in the outline with green paint, using brushes, fingerpaint, or even hand prints.

If you want to use handprints, look at the picture of a hand print Christmas tree to see how to line up their hands.

Once the tree is dry, cut it out. Then hang the Christmas tree on a door or wall where everyone can see it.

Everyone can make their favorite Christmas ornament to hang on the tree. It could be as simple as making candy canes by twisting red and white pipecleaners into a cane shape, or try some of these ideas to make Christmas tree ornaments.

Kids of all ages love to add their own hand made ornaments to the tree.
Thanks to Lisa for sending this idea. She does this project with her day care kids. They make the tree at the beginning of December, and then make the decorations all month long.
If you want to use this idea to keep kids busy at a party, paint the tree the day before and then have the kids make the decorations during the party. Or have lots of them cut out their handprints from green paper and then glue on the handprints to create the tree.