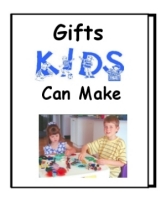 Children love making gifts for their parents and other adults who are important to them. But what can they make that will delight the person they are giving the gift to?
Here's how you can quickly and easily get lots of simple, high quality gift ideas that you children can make. Guaranteed to be fun the children making the gift, and a delight for the person receiving it.
Ingredients
1/4 cup butter
1/4 cup brown sugar
1/2 cup molasses
3 cups whole wheat flour
1 tsp baking soda
1/2 tsp salt
1/2 tsp cinnamon
1/4 tsp cloves
Directions
Mix together the butter and brown sugar, then add the molasses.
Stir in flour and the rest of the dry ingredients.
Add water if needed to make a dough that can be rolled out.
Roll out the dough to about 1/4 inch or 1/2 cm thick. Use Christmas cookie cutters to cut the cookies.
Move the Christmas cookies onto a greased cookie pan.
Bake at 350F for 10 minutes.
Move to cookie racks to cool.
Decorate with icing an sparkles.
Hints:
Add up to 1 tsp of ginger if your kids like the flavor.
The spices get stronger if the cookies aren't eaten right away.
We love the flavor in these cookies. They are much nicer than traditional sugar cookies and they freeze well. Ice them after they've thawed.
Now, if only someone could come up with an idea for nutritional icing and decorations!
Find more ideas to make Christmas crafts or check out ebook with lots of Christmas cookie recipes.