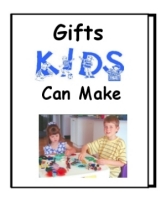 Children love making gifts for their parents and other adults who are important to them. But what can they make that will delight the person they are giving the gift to?
Here's how you can quickly and easily get lots of simple, high quality gift ideas that you children can make. Guaranteed to be fun the children making the gift, and a delight for the person receiving it.
Materials - (pipe cleaners, thread, glue, sparkles)
Create the snowflake shapes from pipe cleaners:

** Cut one pipe cleaner in three pieces and twist them together in the center. Tie a thread or wool around each of the arms to create a circle.

** Take one pipe cleaner and twirl it into a spiral shape.

** Take two pipe cleaners and twist them together in the center. Bend the pieces to create square or rectangular sections of the snowflake.
Put glue on the pipe cleaner snowflake.

Dip the snowflake into the glitter and let dry. Or put a pie plate or tray underneath the snowflake and sprinkle the glitter over the snowflake.

Let dry.

Have the kids check both sides of the snowflake to see if they want to add more glitter to any bare spots.
Thanks to Jere B. for this project idea.
Hints:
Use colored pipe cleaners to create colorful snowflakes.
Some children will like multi-colored glitter, while other will want to choose their own color combination (e.g. blue pipe cleaners with silver glitter).
Learn more about how crystals are formed.
Note for Parents:
Every parent must use their own judgment in choosing which crafts and activities are safe for their own children. While Creative Kids at Home makes every effort to provide activity ideas that are safe and fun for children it is your responsibility to choose the activities that are safe in your own home.