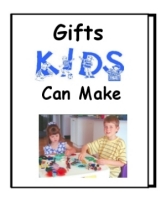 Children love making gifts for their parents and other adults who are important to them. But what can they make that will delight the person they are giving the gift to?
Here's how you can quickly and easily get lots of simple, high quality gift ideas that you children can make. Guaranteed to be fun the children making the gift, and a delight for the person receiving it.
Materials
large jar or decorative box
paper, envelopes
special supplies
lots of ideas
Start making a list of fun things to do as a family. See ideas below.

Think of ideas that will symbolize the fun activity, or even how to make the idea happen.

Start putting everything together.

Write the ideas on pieces of paper and put them in the envelop.
If possible include the items in the envelop. This approach works for things like movie passes, money for admission, or the map of the walking trails.
If the objects don't fit in an envelop, wrap them in paper that matches the envelope (or even make an envelop from the wrapping paper!). This approach works for things like a book to read or a DVD for the family to watch.
4. Put all the envelops in the jar, and the other items in a large box or basket.
Ideas for fun things to do as a family:
Take a walk together,
- Map of local walking trails

Read a book together,
- Wrap up a chapter book and a book geared to younger children with a color-coordinated piece of paper for the reading the book together slip.

Watch a movie,
- Wrap up a DVD

Make cookies,
- Wrap up small aprons and chef hats, which I will include with a package of chocolate chip cookies for when they make cookies.

Go to the science center, natural history museum, or other local attraction.
- get a family pass to the museum or attraction.

Make Salt Dough Ornaments
- include flour and salt in a bag with the amount of water written on the outside for salt dough ornaments
Thanks to Deborah H for this project idea.
"This Christmas I am making a "joy jar" for my daughter, her husband, and their four children, ages 10, 7, 3 1/2, and 1. I am having a lot of fun thinking of things to put in the jar and their gift will last for several weeks. "