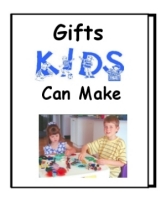 Children love making gifts for their parents and other adults who are important to them. But what can they make that will delight the person they are giving the gift to?
Here's how you can quickly and easily get lots of simple, high quality gift ideas that you children can make. Guaranteed to be fun the children making the gift, and a delight for the person receiving it.
All of these bubble recipes make great bubbles for children. The Magic Bubble recipe is the favorite with my kids. That recipe makes bigger bubbles that last a bit longer. See hints for ideas on where to buy Glycerin.
Basic Bubbles

2 tblsp dish soap
1 cup water

Sweet Bubbles

1 tblsp corn syrup
2 tblsp dish soap
1 cup water

Magic Bubbles

1 tblsp glycerin
2 tblsp dish soap
9 oz water

Color Bubbles

1 cup liquid tempra paints
2 tblsp dish detergent
1 tblsp liquid starch
Hints for making bubble solutions
Mix up the recipes the day before for best results.
Glycerin is inexpensive and can be found in most drug stores. The children think that the bubbles are so much better that it is worth keeping a small bottle on hand.
Do NOT use the Sweet Bubbles recipe if you have bees or wasps in your yard.
Try using sugar or honey if you don't have corn syrup in the house.
Color Bubbles can be a bit messy. Be sure to use paint that can wash out. You can add a little water if the mix is too thick.
Karo syrup does just as well as glycerin in the bubble mixture. But watch out for wasps if you are using it outdoors!

Here are some ideas sent in by our visitors.

"We have had great luck making giant bubbles by using cotton string and straws to make wands. Cut two sections of straws, about 6 inches long. Cut a string about 24 inches long. Pull the string through the straws, tie the string in a knot, and hide the knot inside a straw. By putting your hands on the straws and pulling, you create a square or rectangle. Dip this form into the pan of bubble solution, and gently draw it through the air. Voila, a giant bubble."
" MY THREE YEAR OLD WAS SCREAMING FOR MORE BUBBLE SO I ASK JEEVE AND FOUND YOUR SITE.... THANK YOU IT WORKS! FOR SENTED AND COLORED BUBBLES I USED PALMOLIVE WILD BERRY BLOSSOM DISH SOAP. SMELLS GOOD AND HAS A PRETTY ROSE COLORS! THANKS SO MUCH, MY BOYS ENJOYED THE BUBBLES ALL DAY LONG!" Cherie