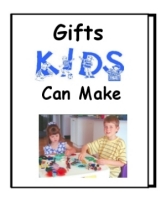 Children love making gifts for their parents and other adults who are important to them. But what can they make that will delight the person they are giving the gift to?
Here's how you can quickly and easily get lots of simple, high quality gift ideas that you children can make. Guaranteed to be fun the children making the gift, and a delight for the person receiving it.
Materials (3 Reader's Digests, clay pot, hot glue, spay paint, decorations)
Fold each page of a Reader's Digest size magazine down from the top, forming a point. The top edge should be alongside the binding. The page should look something like the beginning of a paper airplane.
Do that to every page of 3 books.
Hot glue the books together along their spines to form the Christmas tree.
Hot glue the Christmas tree onto a clay pot.
Spray paint the finished tree and decorate.
You can use this idea to make larger trees using phone books.
Here's an comment sent in by one of our visitors.
"Last year, we spray painted ours silver and decorated them with shiny blue beads. They looked wonderful, we put them on the tables at our Christmas party. At the end, when clean-up time came, they were all gone! People liked them so much, they took them home. What a huge success!"