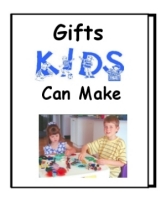 Children love making gifts for their parents and other adults who are important to them. But what can they make that will delight the person they are giving the gift to?
Here's how you can quickly and easily get lots of simple, high quality gift ideas that you children can make. Guaranteed to be fun the children making the gift, and a delight for the person receiving it.
Materials

white glue
decorations
thread or wire
lid from plastic container
food coloring

Christmas Ornament
Instructions:
Mix the glue with some food coloring to get the color your kids want for their Christmas ornament.
Pour the glue mixture onto the top of the plastic lid using it as a circular mold.
Add your decorations (glitter, tinsel, pom poms, ...).
Cut a small piece of thread or wire to make a hanger, and insert it into the top of your ornament.
Let dry then carefully remove from the plastic lid.
Hints
1. The color may deepen as it dries.
2. It could take 2-3 days to dry the Christmas ornaments.
Find more ideas to make Christmas ornaments and Christmas decorations.