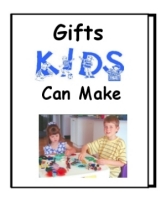 Children love making gifts for their parents and other adults who are important to them. But what can they make that will delight the person they are giving the gift to?
Here's how you can quickly and easily get lots of simple, high quality gift ideas that you children can make. Guaranteed to be fun the children making the gift, and a delight for the person receiving it.
Child's Play will keep your energetic preschooler happy, busy, and challenged with arts and crafts, games, and project ideas.
Big Fun Craft Book celebrates the magic and excitement of children's daily lives with over 80 craft experiences, including a paper friendship quilt, a hand print family tree, and pie tin wind chimes.
3 cups flour
1.5 cups salt
6 tsp cream of tarter
3 tbsp oil
3 cups water
Dissolve salt in the water.
Pour all ingredients into a large pot.
Stir constantly over medium heat until a ball forms by pulling away from the sides.
Knead the dough mixture until the texture matches playdough (1-2 minutes).
Store in plastic container. Should last for at least 3 months.
NOTE: This recipe is made from edible ingredients and not toxic in small amounts for children. However, a dog got sick after eating a batch of playdough. It is not intended as a food item. Please be sure to put it away after your children have finished playing.
Notes from Visitors:
After my cousins and I made playdough, we played with it and didn't put away. In the morning it was dried. I added a little bit of water to it and it turned soft again.
I decided to just let my playdough creation dry naturally in a window in the sunshine. It is almost dry now. A few cracks developed, but I just filled them in with playdough and smoothed them over. I kept turning the totem pole to let the sun hit it from all sides.
1 cup baking soda
1/2 cup corn starch
3/4 cup water
Have your child mix the baking soda and corn starch in a pot. Use hands to make sure all the lumps are broken up. Add water. The adult should put the pan on the stove over medium heat and stir constantly. As soon as the mixture gathers together, remove from the heat. When it cools, have your child knead it into a smooth playdough.
Note: Don't over cook this playdough or it will crumble when the children use it.
Alternative Recipe for childrens playdough
2 cup cornstarch
2 cup baking soda
1 1/4 cup cold water
Gradually add water till smooth. Heat, stirring constantly until mashed potato consistency. Turn onto plate, cover with damp cloth, let cool. Knead dough.
1/4 cup salt
1 cup flour
1/4 cup water
Have your child mix the flour and salt in a bowl then add water. Knead and squeeze the dough to make a clay consistency. You may need to add more water.
Note: Your child will find that this playdough doesn't last as long as the cooked recipes.
The children will love the smell of this playdough!
2 1/2 cups flour
1 cup salt
3 tablespoons vegetable oil
2 cups boiling water
2 packages unsweetened Kool-Aid
Mix dry ingredients. Add oil and water. Wearing gloves, knead for 10 minutes. Store in zip lock bag in refrigerator.
Notes:
Your hands may smell of the Kool-Aid flavor even with gloves.
Kool-Aid is a powdered drink mix sold in North America. Parents just add sugar and water to make the drink. The powder has both flavoring and color which makes it great for this craft.
1 cup rolled oats
2/3 cup flour
1/2 cup water
Mix all of the ingredients in a large bowl. Add more flour if necessary for the dough to form a lump. Have the children knead the dough on a floured surface until it is smooth. You can add food coloring to the water before mixing the dough, or divide it into balls and add the coloring after the children mix and knead it.
Your children's finished crafts can air dry overnight.
Note: Children can store the clay in the refrigerator in a ziplock bag for up to 3 days.
Ideal for items under 3/4" thick
2 cups (500 ml or .5 liter) cornstarch
2 cups (500 ml or .5 liter) baking soda
11/4 cups (310 ml) cold water
In a saucepan, combine cornstarch and baking soda. Gradually add water until the mixture is smooth. Heat, stirring constantly, until the mixture reaches a moist mashed-potato consistency.
Turn onto a plate, cover with a damp towel. Knead clay when cool enough to handle. Clay is now ready to shape into craft projects.
children can add food coloring to make different colors.
roll out the dough into 1cm thick (under 1/2 inch) and have children make hand prints.
takes a long time to air dry or dry in a warm oven (200F) but it may brown a bit.
clay may crack if items too thick or bulky
1/3 cup cornstarch
1/4 cup white glue
Mix completely. Add extra corn starch or glue to get a workable consistency.
Store in plastic baggie. Should last for months with no mold.
Projects can be air dried.
Try rolling out very thinly, then leave over night. In the morning use punchies to create designs before it is completely dry.
Dries like china.