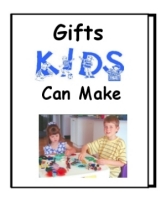 Children love making gifts for their parents and other adults who are important to them. But what can they make that will delight the person they are giving the gift to?
Here's how you can quickly and easily get lots of simple, high quality gift ideas that you children can make. Guaranteed to be fun the children making the gift, and a delight for the person receiving it.
Make a Christmas Ornament
Thanks to Cindy who send in this project idea.
Materials
acrylic paints and brushes
sealer
yarn or a pre-made hat
Paint the light bulb to be the character you want to make.
When it's dry, cover the bulb with the sealer (podgy or ceramic sealer) so the paint won't peal or flake off.
Glue on the hat over the end of the light bulb.
"My children and I found the wonderful idea of making Christmas ornaments from burnt out light bulbs and we wanted to share with you and your viewers how easy and wonderful they are.
Here is my daughter Destiny and her 'light bulb penguin'...."


Cindy is a Wellness Consultant and Proud Member of The M.O.M. Team.
Find more ideas to make Christmas ornaments and Christmas decorations.