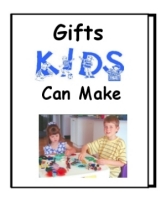 Children love making gifts for their parents and other adults who are important to them. But what can they make that will delight the person they are giving the gift to?
Here's how you can quickly and easily get lots of simple, high quality gift ideas that you children can make. Guaranteed to be fun the children making the gift, and a delight for the person receiving it.
Here's a list of simple ways to let the people you care about know how you feel. While the list was meant for adults, there are lots of ideas that can be used to tell our children that we love them too!
Call or leave messages through the day, just to say I love you. Make the number of calls significant, if you been dating six months, make six calls. If it's your child's fifth birthday, hide five notes with 'I love you' in their school or lunch bags.
Write your love a love letter. Most love letters are written in the early stage of a relationship. It may be years since your special person last received a love letter. Children will treasure a letter from their parents letting them know how special and loved they are.
Think of a regular chore that your love does every day (eg. Take out the garbage). Do that chore and leave a note saying 'I love you' (eg. On the garbage can).
Make your own Valentine's Day card. Get a book of poetry from the library and copy a love poem for the verse.
Make a special dinner using red and white (or a favorite color) as the theme. You could serve spaghetti with tomato sauce (arranged in a heart shape) and garlic bread cut out with heart shaped cookie cutters. Back a cherry or strawberry pie and with a heart cut out in the crust.
Cover the bathroom mirror with a message in red lipstick. Don't forget the kisses!
Have children wrap a very small (jewelry box size) write a tag "filled with love" attach this poem with the wrapped box.

The most precious gift I am told,
is all the love the heart can hold.
I give it to you, you give it to me.
There's enough in the world and the gift is free.
Will you take my love, more precious than gold?
It's the finest gift the heart can hold.
Everyone loves to be spoiled with breakfast in bed. Or how about waking a birthday child up with a mug of hot chocolate or freshly squeezed orange juice.
Often families are very busy in the evening and babysitters can be expensive. Arrange to meet your love for lunch. You could go to your favorite restaurant or make a picnic lunch ( for the office or a near by park).
Rent a favorite video, make popcorn and have a night in at the movies. Or make it a family game night where each person gets to play their favorite game.
Get creative! Find ways to let friends and family know you care.