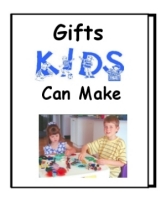 Children love making gifts for their parents and other adults who are important to them. But what can they make that will delight the person they are giving the gift to?
Here's how you can quickly and easily get lots of simple, high quality gift ideas that you children can make. Guaranteed to be fun the children making the gift, and a delight for the person receiving it.
M
aterials List
one pinecone
glue
scissors
colored paper or paper and markers/crayons

Directions
Use colored paper, picture pages from magazines, or have the kids color patterns on white paper.
cut out feathers from the colored paper. Make slits along the side just like feathers.
cut out the head in the shape of a turkey, or find a picture in a magazine or flyer and glue the picture to some cardboard.
glue the head on the small end of the pinecone.
glue the tail feathers into the spaces on the large end of the pinecone.
This activity was sent in by Megan and her mommy, Janice Byer of Docu-Type Administrative Services.
Idea from one of our visitors
I make turkeys out of pine cones too .I put colored feathers inside the cone part and pipecleaner for legs--bend pipe cleaner around the body pine cone and bend up for legs. wiggy eyes is glued on by a glue gun . Glue the feathers in place too.
Thanks to Joan for this idea.