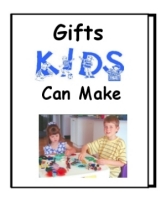 Children love making gifts for their parents and other adults who are important to them. But what can they make that will delight the person they are giving the gift to?
Here's how you can quickly and easily get lots of simple, high quality gift ideas that you children can make. Guaranteed to be fun the children making the gift, and a delight for the person receiving it.
Materials ( Plaster of Paris, water, string, beach stuff )
Step 1

Have the kids dig a hole in the sand the size and shape of the mask. It should have a flat bottom about 2 inches or 5 cm deep.
The kids can collect the objects to make the features on their beach mask.
Arrange beach objects to create the face for the mask. Remember to reverse items since the mask will be flipped over when it is taken out.

Step 2

Follow the directions on the plaster of paris. The kids can use salt water or fresh water for mixing. The amount they will need depends on the size of the mask. An average size mask will take 3-4 cups of mixture.

Step 3

Carefully pour the mixture into the hole. Have the kids put their hands under the mixture as it pours so that the flow doesn't disturb the items in the mask.
Now is the time to put some string in the back of the mask if you want it to be a wall hanging.

Step 4

As soon as the plaster has set, dig the sand away and gently flip the mask over. The kids will have a few moments to make final changes.
Hints
Pre-measure the plaster of paris into individual bags, before you go to the beach. Add the right amount of water to the bag and use it to mix up the plaster. (Be sure to put the bags in the garbage when you are finished.)
Read the mixing directions and setting times on the package before you leave home or bring them with you.
Think about the items you are choosing for your mask features. Shells, rocks, and dried seaweed work fine. Wet seaweed may smell and change size as it dries over time.
The plaster of paris should be about an inch thick when you pour it into the hole.
Looking for some interesting beach toys? How about a science experiment with sand?