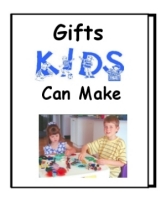 Children love making gifts for their parents and other adults who are important to them. But what can they make that will delight the person they are giving the gift to?
Here's how you can quickly and easily get lots of simple, high quality gift ideas that you children can make. Guaranteed to be fun the children making the gift, and a delight for the person receiving it.
Materials
colored paper or board,
decorations,
glue,
scissors
Directions
Trace a child's hand on green paper. You will need 8 or 9 handprints for the tree branches.
Cut out a star for the top of the tree, and a trunk.
Glue the trunk on the bottom of the page. Then glue the hand prints to create the tree.
Add the star at the top of the tree.
Decorate the tree using anything you have on hand (paint, bits of colored paper, tinsel, ribbon sequins)
Hints:
Fold the paper so that you are cutting out 2 or four hand prints at one time.
Try arranging the prints to create the tree before you start gluing.
Find more ideas to make Christmas crafts.