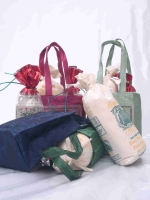 Breakfast is in the Bag from Treats from the 45th Parallel
Won by Sharnie Hudson
Give the gift of Breakfast in bed with our delicious Pancake mix just add water and 2 jugs of 100% pure Maple Syrup. Your loved one will love you for it.
One pound lb of Easy morning just add water Pancake Mix and 2-1/2 cup easy pour jugs of 100% pure Maple Syrup in a colorful cloth bag (Breakfast is in the Bag get it ??) in Wine, Hunter Green, Pale Green, Navy Blue. or a brown Paper bag with a clear window, Just in for Christmas Get your Breakfast is in the Bag in a red velvet with white trim bag, your choice. value $20.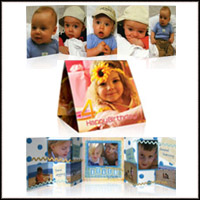 Family Fold Personalized Card from Celebrate Heritage
Won by Cheryl Lane.
Create a unique, personalized cards like never before using your photos and Heritage Makers on-line publishing features. With the family folds you can create a 7 panel, 5 panel or a 3 panel card. Both sides, of each of these, can be personalized. These make great gifts for grandparents, aunts and uncles, and/or other friends and family. $15.00 total value.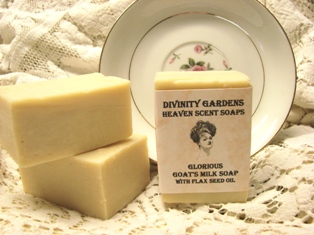 Gift Certificate for soaps from Divinity Gardens
Won by Sylvie.
Our Handmade Soaps are free from harsh chemicals and are rich in natural oils to leave your skin feeling clean and moisturized. $17.35 total value including shipping.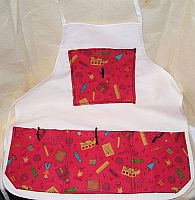 Children Apron from Always a Little behind Crafts
Won by Jessica Gant.
Children's bleached denim apron with pockets and bib covered with red school material. $7.50 + 3.65 Shipping (USPS Priority Mail)

Kids Craft set from Custom Gifts by Talina
Won by Cherie Selby.
Everything you need to make five children's craft projects including wind chime, butterfly bracelet, heart necklace, choker, and Marabou bird pen. Value $10.

Gift Certificate from A Bead Above Jewelry
Won by Sara Barth.
Unique affordable woven designs in custom sizes, handcrafted from crystals, seed beads and natural stones. Value $20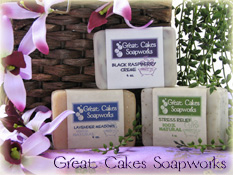 Three lucky winners will get to choose two handmade soap cakes from Great Cakes Soapworks!
1. Won by Jeanette Jackson.
2. Won by Linda Bunston.
3. Won by Donna Houser.
Our soaps are gentle and moisturizing, richly scented and luxurious. Discover the difference of a soap that is truly handmade from scratch in the cold process tradition, just waiting to pamper your skin!
Valued at $9.00, plus shipping is on us!