Gifts for Kids
Looking for childrens gifts to delight the children you love?
Children love the surprise of getting a gift. They don't know what's inside their present and can imagine their gift to be just about anything. But the best thing about giving a gift for a child, is knowing that someone loves them enough to give them a gift!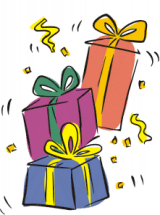 Read about some amazing ideas for gifts for children.