Easter is less than a week away and it's time to start thinking about all the fun crafts and projects you can make with children.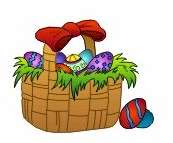 You can find lots of ideas to make your own Easter Baskets and to plan a treasure hunt.
With younger children, try this idea for no dye Easter Eggs. Older children and make their own colors and even try to make Ukrainian Easter Eggs.
There are lots of ideas on the Easter page, including how to make Easter Bunny decorations.
Don't forget to check out the main Activity Page for lots of kids crafts.