Once upon a time...isn't that how such stories are begun....when I was 3 years old, I was ill and confined to my bed just before Christmas.
The family decided that the Christmas tree would be put up in my bedroom. (I think it was the only way they could figure out to actually keep me in bed at that time of great excitement.)
The night before Christmas, the excitement just got too much...and my curiosity got the better of me. One by one, I retrieved the gifts from under the tree, consulted with my sister who could read the labels, and if my name was on the label, took it as an omen that the gift was to be immediately unwrapped.
The next morning while everyone else was sharing in the excitement of opening the gifts they had received, I had only one gift to open that had managed to escape my previous night's inspection.
It was an early lesson in the merits of patience.
Thanks to Carol Clark for sending in this story. Carol's site, Discover Health and Wealth, has lots of information on nutritional supplements.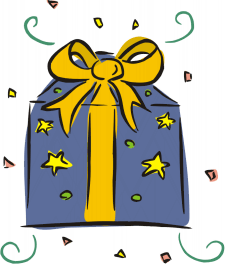 Send us a note if you have any questions.