When my sister & I were younger, for several years we received 'The 12 Days of Christmas' on our front porch.
Each morning, we would open the front door, and there would be a little bag that said 'To the Flett Girls.'
They were fun gifts, like alien pencil toppers, googly eyes, pipe cleaners, origami paper, jingle bells, and bouncing balls. On the 12th Day, we always got 12 frozen burritos (we loved burritos!). Those didn't fit in the bag, of course. For years, we couldn't figure out who was doing it. Eventually, as most children do, we figured out it was our dad.
I've always wanted to do that for my child. Next Christmas, our son will be 2 years old. I hope to start this tradition for him, as well. This Christmas, I will be giving him 'The 12th Day of Christmas' bag, with 12 frozen burritos (of course!), and a bunch of other little odds & ends (chocolate covered coffee beans, tiny parachute men, candy canes, & car air fresheners, to name a few).
If you know someone who is alone for Christmas, this can be a fun way to brighten their Christmas season!
Thanks to Nanci Ailinger for sending in this gift idea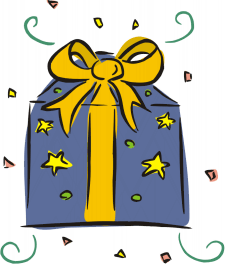 Send us a note if you have any questions.