I love reading and think books are great and to be respected.
I have started a family tradition with my children to buy a favorite story-time book every Christmas. Classics like 'We're going on a bear hunt" and "the very hungry caterpillar" and all the titles I've grown up with. I have also started to buy ONE DVD every Christmas too (DVDs are great on a rainy day!) and am trying to build up a family collection of the much-loved Disney collection!!!
Another fun family gift we got one year was a huge suitcase of old clothes - dress up clothes!!
You can make up a box of op-shop clothes with belts, shoes, hats, big shirts, dresses, fabric strips, make-up etc - a gift that will bring smiles for many hours!!
Thanks to Ashlee for sending in these ideas for family gifts.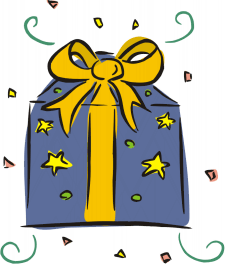 Send us a note if you have any questions.