I have to buy presents under $10 for 5-10year olds.
So I came up with a couple of fun presents I put together myself!!
For each person, I have bought a fun printed mug, placed in a cool sorbet/long dessert spoon, and some sachets of milkshake mix and hot chocolate, and little wrapped marshmallows!
For adults I put in teabags or coffee sachets!!! I wrap in cellophane and tie with ribbon before wrapping!!
I also buy small terracotta pots and put in a packet of seeds and a gardening tool, or for the grandparents, the kids can decorate the pots. We put a nice potted plant in, a few days before Xmas - a long-lasting gift!!!
Thanks to Ashlee for sending Kids Gift ideas!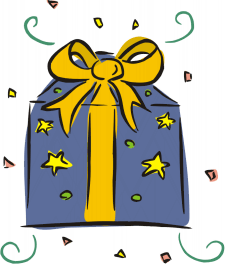 Send us a note if you have any questions.