There were nine kids in my family and my Mom and Dad did not have a whole lot of money. But they done their best to see to it that we had a Christmas.
I remember my Dad getting my brothers up early on a Saturday morning to go and find the biggest prettiest Christmas tree. Mom would be getting all the tree ornaments ready for us to put them up. We didn't have a lot of money to buy ornaments for the tree so us girls would cut out and make paper chains and stars and put them on the tree.
I heard my Mom and Dad talking about how we would be sad because they didn't have much to give us on Christmas day. I told my mom that she didn't have to worry that Santa would see to it that we got what we wanted. But I never will forget that I was so disappointed because I never got I wish for.
After that I just never care about Christmas again.
But something Wonderful happened to me. At school we had these Bible Missionary people who came and told us about the bible. How Christmas was when our Savior was born and had came to die for us on a cross.
They came to my house one day and had brought some things to help my mom and dad out. They would bring clothes and at Christmas they brought each one of us a gift of something.
I will never forget them and after 40 years ago they are still living . They are old now but I still visit them and take them a fruit basket for Christmas. They are to me what Santa Clause was when I was little. But the most I am grateful for if they took me to church and I got saved. I from that day on learned that its best to give because it makes you feel good in your heart and that Jesus is the reason for the season.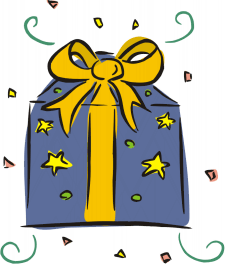 Send us a note if you have any questions.