The best gift I ever received as a child came from my Grandma. In my family, my Grandmother, was very well to do, and lived up the hill from us in a very fancy house. We lived down the hill from her, and my Grandma lived with us. Grandma greeted me daily as I came home from school. I put rollers in her hair every weekend. We were close. We shared a special secret - we both had trouble sleeping at night.
For a young girl, not being able to sleep was frightening. It meant the world to me to curl up next to Grandma's bed in the middle of the night and know she was also awake and understood my restlessness. We would chat a little and then I would soon relax - resting in the knowledge I was not alone.
One year as Christmas approached, Cabbage Patch Kids were all the rage. I had 2 very special ones which I played with all the time. Grandma knew this and thoughtfully set out to create a wardrobe for them out of old pants and shirts. Christmas Eve we trekked up the hill to Grandmother's house. Underneath the tree were presents wrapped in glorious colors with each grandchild's stack nearly to the top of the tree. Grandmother always went crazy at Christmas and we never wanted for the latest toys. After dinner all the grandkids began to rip open all the gifts. I got a TV and a fur coat.
What a haul. A beautiful beaver coat, hand made for me, a tiny 5th grader. It was soft and obviously very expensive. The last gift I opened that night was Grandma's. A simple shirt box, but inside were 5 hand sewn outfits for my precious dolls. They were not fancy, in fact, they were painfully plain, but they filled my heart with imagination and joy as I thought of the hours of play before me.
I nearly forgot to take the coat and TV back down the hill that night. Later, much later, when I made my way downstairs to sleep on Grandma's floor, I don't think I mentioned how thankful I was for her gift. I hope she knew as I played endless hours with my dolls and the outfit she had made.
Thank you to Jessica for this wonderful story about a gift from her Grandma.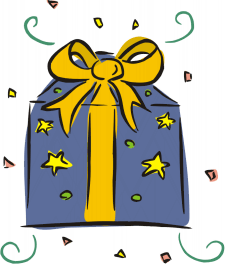 Send us a note if you have any questions.